Scientific interests
Application of the latest visualization technologies in the educational process, geometric-graphical and computer simulation of the processes of forming the objects of construction, architecture and design.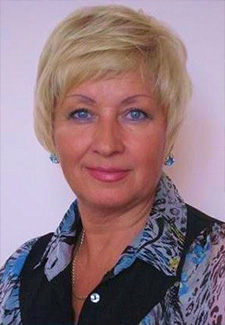 Associate professor
YAROVA
TETIANA
PETRIVNA
Contacts
Location
PSACEA, room 302
(3rd floor of the main building)
Phone:
interphone 3-80, landline (056)756-33-80
E-mail
tpyarov@gmail.com
Scientific activity
Obtained PhD in Donetsk National Technical University (2013) The author of 18 scientific articles, a participant in many scientific conferences, such as: - International scientific and practical conference "Modern problems of geometric modeling" -m. Dnipropetrovsk, m. Kharkiv, m. Melitopol; - Crimean Scientific and Practical Conference "Geometric and Computer Modeling: Energy Saving, Ecology, Design" -m. Simferopol; - International scientific conference "Intellectual systems of decision making and problems of computational intelligence" -m. Evpatoria; - International Student Scientific and Technical Conference "Graphics of the XXI Century" -m. Sevastopol
Skills development
Warning
: Invalid argument supplied for foreach() in
/usr/local/www/hosts/pgasa.dp.ua/wp-content/themes/pgasa/single-teacher.php
on line
120
1980-Graduated from the Faculty of Architecture of the Dnipropetrovsk Engineering and Construction Institute (DECI) now, PSACEA, specialty -Urban Construction, qualification - an engineer. August 1980 -the engineer of VAT, September 1980- an assistant in DECI a senior lecturer (1998), and 2007 till present - an assistant professor of the department of descriptive geometry and graphics. Since 2006, Deputy of Dean at the architectural faculty on educational work. For scientific, educational, methodological and educational work Yarova T.P. has a lot of certificates and diplomas.
1. Яровая Т.П. Геометрическое реконструирование памятников архи-тектуры, содержащих ряд поверхностей вращения, по их фотоснимку  / Т.П. Яровая, В.И. Слюсаренко //Збірник наукових праць КНУТД (спецвипуск): Міжвідомчий науково-технічний збірник. – К.: ДОП КНУТД, 2005. –с. 373.
2. Яровая Т.П. Геометрическое реконструирование памятников архи-тектуры, содержащих соосные поверхности вращения, по их одиночным снимкам» /Т.П. Яровая, В.И. Слюсаренко, С.А. Недодатко //Системні технології. Регіональний міжвузівський збірник наукових праць. – Випуск 3(44). – Дніпропетровськ, 2006. – с.212.
3. Яровая Т.П. Геометрия золотого эллиптического торса как дизайн-объекта / Яровая Т.П., Д.И. Ткач , А.Д. Кистол // Збірник наукових праць КНУТД №4(30) (спецвипуск): міжвідомчий науково-технічний збірник. – К.: ДОП КНТУД, 2006. – с.306-311.
4. Ярова Т.П. Перетворення конуса обертання у сім'ю однопорожнинних гіперболоїдів обертання та його застосування /Т.П. Ярова // Геометричне та комп'ютерне моделювання. Збірник наукових праць, ХДУХТ. – Харків, 2007. – Вип. 18, с.195-199.
5. Ярова Т.П. Перетворення циліндра обертання у сім'ю одно- порожнинних гіперболоїдів обертання /Т.П. Ярова //Прикладна геометрія та інженерна графіка. Праці ТДАТА. – Вип. 4, т.35. – Мелітополь, 2007.- с.132-135.
6. Ярова Т.П. Геометричне моделювання місце прикладання зосеред-женного навантаження в двомірних механічних системах при невизначенності /Т.П. Ярова, В.О. Бараненко, А.Ю. Войнаков // Прикладна геометрія та інженерна графіка, міжвідомчий науково-технічний збірник , Вип.78, К.: КНУБА, 2007. – с.83-87.
7. Яровая Т.П. Золотые торсы как пространственные проявления золотого сечения /Т.П. Яровая, Д.И. Ткач, А.Д. Кистол // Новини науки Придніпров'я, серія: Архітектура і будівництво. Науково-практичний журнал №1,ПДАБА, РИА «Днепр-VAL», 2008.- с.20-27.
8. Ярова Т.П. Графічне моделювання змін властивостей будівельних матеріалів /Т.П. Ярова, Н.П. Мельниченко // Прикладна геометрія та інженерна графіка. Міжвідомчий науково-технічний збірник , Вип.81, К.: КНУБА, 2009. – с.163-167.
9. Яровая Т.П. Использование кривых поверхностей для образования рабочего органа /Т.П. Яровая, К.К. Мирошниченко // Вісник Придніпровської державної академії будівництва та архітектури. -Дніпропетровськ, ПДАБА,  2011.-№1-2.- с.67-73.
10. Яровая Т.П. Геометрия и графика поверхностей четырехгранной пирамиды и прямого кругового конуса /Т.П. Яровая, А.Д. Кистол  //   Технічна естетика і дизайн, міжвідомчий науково-технічний збірник  – Київ:КНУБА,-2013, вип.12, с.225-229.
more
Publications for review

Warning: Invalid argument supplied for foreach() in /usr/local/www/hosts/pgasa.dp.ua/wp-content/themes/pgasa/single-teacher.php on line 155

up