Scientific interests
Teaching programs of higher education in Architecture. Spatial-Planning Factors of Placing Sacral Objects in a Large City (on the example of Dnipro). Urban planning and regional planning.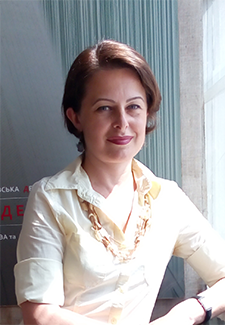 Senior teacher
SHVETS
IRYNA
ANATOLIIVNA
Contacts
Location
PSACEA, room 453, 457( fourth floor)
Phone:
interphone 2-46, landline 46-42-52
E-mail
irynashvets19@gmail.com
Scientific activity
2000 - Master of Architecture in the specialty "Urban Development"(diploma with honor) 2001-2004 postgraduate study at the Lviv Polytechnic University at the Department of Urban Development, specialty 18.00.01 - Architecture Theory, Restoration of Architectural Monuments. The theme of the dissertation research "Sacred objects in the architectural planning structure of the city of Dnipro", scientific advisor Dr.Arch., Prof. Krivoruchko Yu.I. TEMPUS - SEHUD "Sustainable Urban Development Based on Eco-Humanistic Principles" (2012-2015) TEMPUS - SEHSI "Regional Sustainable Development on the Basis of Eco-Humanistic Synergistic Interaction" (2013-2016) - Summer School "Ljubljana - self-sufficiency city", Ljubljana, 2016. DAAD Project "Partnership within the Historic Part of the City" - Participation in the exchange program, Lubeck, 2016.
Skills development
Warning
: Invalid argument supplied for foreach() in
/usr/local/www/hosts/pgasa.dp.ua/wp-content/themes/pgasa/single-teacher.php
on line
120
2000 - an assistant at the Department of Architectural Design, PSACEA. 2001 -2004 - the post-graduate course of NU Lviv Polytechnic at the Department of Urban Development. 2005 –an assistant of the Department of Architectural Design. 2013 - a deputy dean of the Architectural faculty of educational work. 2018 - a senior lecturer at the Department of Architectural projecting and Design, a member of the Methodological Council of the faculty, responsible for the Department for conducting industrial practice of students, served as the secretary of the SAC, responsible for the faculty for career guidance work, a participant and co-coordinator of the projects and activities of the European Educational and Scientific Center PSACEA and the French-speaking Center for University Development.
1. O.Chelnokov, I.Shvets, K.Kozlova. Ukrainian cities: from industrial past to sustainable future. // Urbanity: Theories and project designs new strategies for sustainable developments of Ukrainian cities /edited by M.G.Folli. – Milan: POLIMI, 2017. P.23-27.
2. І.А. Швець. Участь Архітектурного факультету у міжнародних освітніх проектах TEMPUS. // Дікарев К.Б., Горчіліна Г.О. Про участь ДВНЗ ПДАБА в міжнародному освітньому проекті Tempus SEHSI. Календар подій: Збірка документів, матеріалів, фотографій та статей. – Дніпро: ПДАБА, 2016. С. 97-99.
3. Швець І.А. Розвиток мережі сакральних об'єктів в архітектурно-розпланувальній структурі Дніпропетровська // Досвід та перспективи розвитку міст України. Проблеми планування великих міст: Зб. наук. праць. – Вип. 8 – К: Ін-т "Діпромісто", 2005. С.139-149.
4. ШвецьІ.А. Просторова еволюція мережі храмів Дніпропетровська // Проблеми теорії та історії архітектури України: зб. наукових праць АІ ОДАБА. Вип.4 Архітектурна спадщина і дизайн/ за ред. О.Б.Раллєва. – Одеса: Астропринт, 2003. С.109-112.
5. Методичні вказівки до лекційного курсу "Основи регіонального планування". / Укладачі Гаврилов І.М., Швець І.А. – Дніпропетровськ: ПДАБА, 2007. – 27 с.
6. Методичні вказівки до виконання курсового проекту з архітектурного проектування «Селище на 2000 мешканців. Планування та забудова» для студентів напряму підготовки 6.060102 – «Архітектура» денної форми навчання. / Укладачі: Воробйов В. В., Швець І.А. –Дніпропетровськ: ДВНЗ ПДАБА, 2014. – 15с.
more
Publications for review

Warning: Invalid argument supplied for foreach() in /usr/local/www/hosts/pgasa.dp.ua/wp-content/themes/pgasa/single-teacher.php on line 155

up