Scientific interests
Economics of construction companies, investment and foreign economic activity of enterprises. The basic direction of scientific research is the organizational and economic mechanism of ensuring economic security and improving the efficiency of the enterprise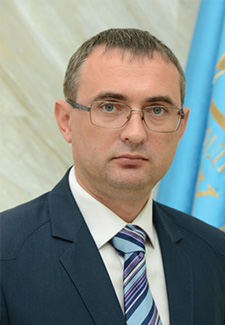 Candidate of Economic Sciences, Associate Professor
FISUNENKO
PAVLO
ANATOLIYOVYCH
Contacts
Location
PSACEA, room B1007
(десятий поверх висотного корпусу)
Phone:
landline (056)756-34-77
E-mail
fisunenko_pavlo@mail.pgasa.dp.ua
Scientific activity
1999 - graduated from the Faculty of Economics PSACEA with a degree in economics (specialty - Company economics of ) and received a diploma with honors. 1999- postgraduate study program of PSACEA, specializing in construction economics. 2006, -defended Ph.D. thesis for the degree of an associate professor of economics, specialty 08.07.03 - construction economics, scientific supervisor - doctor of sciences, professor Dragun L.M.(Kharkiv National Academy of Municipal Economy. The theme of the dissertation is "Organizational and Economic Mechanism for Monitoring the Efficiency of Using the Financial Resources of a Construction Enterprise". There are 112 scientific and pedagogical works, 3of them are manuals (2 - with the visa of the MESU), 2 monographs, 55 scientific articles. Scientific secretary of the Specialized Academic Council of PSACEA on specialties 08.00.03 - economics and management of the national economy, 08.00.04 - economy and management of enterprises and 08.00.05 - development of productive forces and regional economics. Responsible for scientific work of the department: "Improvement of accounting and analytical information in the management of economic processes". Member of the Academic Council of the PSACEA and a chairman of the Academic Council of the Faculty of Economics. Deputy editor-in-chief of the electronic scholar edition "Eastern Europe: Economics, Business and Management". Professional registration: Order of the Ministry of Education and Science of Ukraine dated May 16, 2016, No. 515. Site http://www.easterneurope-ebm.in.ua/ An award winner of the Academy of Construction of Ukraine after academician M.S. Budnikov for a cycle of scientific works on the development of cost- contractual documentation and assessment of the effectiveness of investment projects.
Skills development
Warning
: Invalid argument supplied for foreach() in
/usr/local/www/hosts/pgasa.dp.ua/wp-content/themes/pgasa/single-teacher.php
on line
120
Has been working in PSACEA since 2001. 2010-associate professor at the Department of Company accounting, economics and personnel management. Since 2015 - Dean of the Faculty of Economics
1. Фісуненко П.А. Організаційно-економічний механізм контролю ефективності використання ресурсів підприємства // Вісник соціально-економічних досліджень: збірник наук. праць. – 2013. – №48. – С. 48-55.
2. Нагорный В.В., Фисуненко П.А., Чайка Н.А., Шостак А.В. Оптимизация производственной мощности предприятия в условиях роста производственной программы // Економічний простір: Збірник наукових праць. – № 69. – Дніпропетровськ: ПДАБА, 2013. – С. 255 – 261.
3. Фісуненко П.А. Аналіз стану та тенденцій розвитку будівельних підприємств у контексті дослідження їх економічної безпеки // Орловська Ю.В., Фісуненко П.А., Левченко В.Ф. / Теоретичні і практичні аспекти економіки та інтелектуальної власності: Збірник наукових праць. – Маріуполь: ДВНЗ «ПДТУ», 2013. – Вип. 1, Т.1. – С. 248 – 252.
4. Фісуненко П.А., Кобець В.В. Бюджетування як інструмент управлінського планування діяльності підприємства // Економічний форум: наук. журн. / Луц. нац. техн. ун-т. – Луцьк: Вид. від. ЛНТУ, 2013, № 3. – С. 132 – 137.
5. Фісуненко П.А., Літовченко С.В. Покращення управління дебіторською заборгованістю сучасних підприємств // Економічний простір: Збірник наукових праць. – № 75. – Дніпропетровськ: ПДАБА, 2013. – С. 250 – 262.
6. Фісуненко П.А., Вовк М.С. Еколого-економічні виклики міжнародної конкурентоспроможності // Економічний простір: Збірник наукових праць. – №78. – Дніпропетровськ: ПДАБА, 2013. – С.45-53.
7. Фісуненко П.А., Кочмар Н.В. Аналіз методик оцінки конкурентоспроможності підприємства // П.А. Фісуненко, Н.В. Кочмар / Місце і роль студентської молоді в прискоренні соціально-економічного розвитку / за ред. Т.М. Берднікової, Н.О. Євтушенко. – Запоріжжя: ЗНУ, 2014. – С. 174 – 181.
8. Фісуненко П. А. Аналіз методів оцінки вартості підприємства // П. А. Фісуненко, О. О. Климчук, О. В. Руденко / Місце і роль студентської молоді в прискоренні соціально-економічного розвитку / за ред. Т. М. Берднікової, Н. О. Євтушенко. – Запоріжжя: ЗНУ, 2014. – С. 167 – 174.
9. Фісуненко П.А. До питання визначення показників та критеріїв оцінки економічної безпеки підприємств будіндустрії // С.М. Косячевська, П.А. Фісуненко, Н.М. Богданова / Економіка і організація управління : зб. наук. пр. / Донец. нац. ун-т. – Вінниця, 2014. – № 3(19) – 4(20). – С. 125 – 132.
10. Фісуненко П. А. Аналіз існуючих підходів до визначення поняття економічної безпеки підприємства / Фісуненко П. А., Жежера А. О., Остапенко М. О. // Креативне управління соціально-економічним розвитком підприємств України: теорія і практика [колективна монографія / за ред. Т. М. Берднікової, Н. О. Євтушенко, М. В. Пахомовська]. – Запоріжжя: ЗНУ, 2015. – С. 171 –
more
Publications for review

Warning: Invalid argument supplied for foreach() in /usr/local/www/hosts/pgasa.dp.ua/wp-content/themes/pgasa/single-teacher.php on line 155

up